My name is Alyssa Espinoza, and I have been employed with Televerde for three years now. If I had to think of a word that best describes me, I would have to say "Resilient". I've had the ability to bounce back from every single situation that I have been in and I surprisingly have done it gracefully.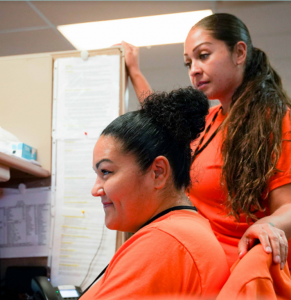 I decided to share one of my favorite quotes by Marilyn Monroe which relates to who I am. This quote resonates with me because I have made more mistakes than I can count, but what we learn from our mistakes and how we move forward is what really matters.
When I first came back to prison my mother asked me "Where are your friends now?" and I now understand what she meant by the question which leads me to a few thoughts: Encourage yourself to be surrounded by positive people who will stick by your side and lift you up when the going gets tough.
Life will continue to throw us curveballs and making sure to have the support that we need when it happens is important. Take charge of your future, own your outcomes, and be that courageous, successful,
independent woman that you were born to be.
When I came back to prison for the fourth time and was sentenced to 6.5 years, I was completely broken. I had just gotten married and finally had a family of my own. Unfortunately, my past had come to haunt me, and my freedom was snatched away from me in the blink of an eye. At that moment I knew that even if I had wanted to change some things in my life, there was no way that I could prevent the inevitable.
When I applied for Televerde I had a vision – to do everything different. Everything that was in my power to change, I have changed, and I could not be happier. I now have a skillset that I never thought possible to learn from behind bars, and am currently earning my Bachelor's Degree in Communications. I have seized every single opportunity that has come my way and have stepped out of my comfort zone completely in order to secure my future.
My newest endeavor is taking the PATHS program through the Televerde Foundation. PATHS has helped me in so many ways and the most important lesson that I've learned is how to use positive thinking. I sometimes think that if I would have known how to use this new set of critical thinking skills, then maybe I would not be where I am now, but the truth is that I am exactly where I need to be.
I have grown in so many ways and I can't wait to start my new responsible adult life beyond these gates and live my life like I was meant to. I finally get the chance to live with no regrets and I get to take care of my wife and kids by giving them the stability that they deserve.
My family is so proud of me and I must extend my biggest thanks and appreciation towards Televerde and Televerde Foundation. I am so grateful to the Foundation for giving me a second chance and being that strong support system in my life. The sky is not the limit, and I am living, breathing proof that dreams go beyond the sky.
Hats off to the Televerde Foundation for changing lives every single day!! This journey has truly been a blessing. Do you dare to be different?