My name is Ashley. I am a daughter, a sister, a friend, and most importantly, a mother.
When my son was five years old, I was sentenced to a 6-year prison term.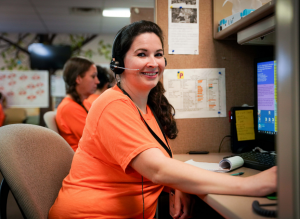 My heart was shattered into a million pieces knowing I would be away from my son until he was ten years old. Precious memories would
periodically flash into my head, while the rest of the time, I would fall into a deep depression, unsure of my future. I was utterly lost and broken inside.
Before I came to prison, I had important goals and dreams. Before my eyes, my goals were becoming harder to reach, and those dreams were dissipating as time felt like it was at a standstill.
I had never been the type to give up, and there was no way I would compromise who I was and give up at that point. In deciding not to give up on me, I got hired at Televerde in March of 2021. Since I started my journey at Televerde, my life has been filled with certainty… the certainty that I'm going to be successful when I'm released into the real world and have a network of support to guide me when I need it most.
I was given a second chance at life with the help of Televerde and the Televerde Foundation. I now know what I can achieve, and I will continue to strive to be the best version of myself. I understand that the reflection of my success will shine through so that I can become a role model for my son.
Thank you to Televerde and Televerde Foundation for helping me find the strength and confidence I needed to believe in myself and my future.