My name is Carole Gold. Many years ago, I
managed to lose my identity, my self-worth, and my confidence. I acted out in the worst of ways. I wound up here. Then in November 2000 a small group of us were called to visitation for Televerde's first "new hire" class.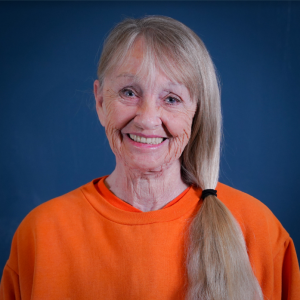 On the way we peeked in the windows of what is now the Santa Cruz call center. The floor was bare concrete, black and blue wires were hanging from the ceiling, the acoustical ceiling had not been installed. There were no cubicles. Almost two months later the call center had been completed and looked similar to what it looks like today. (Maybe not as lived in!)
In January 2001, we launched the first call from the Santa Cruz center. It is hard to believe it was twenty-two years ago when we first walked through those double doors.
What a journey. When I started working here, I was computer illiterate. Technology had passed me by. Eight weeks of "new hire" classes helped. Working on lead generation campaigns like Information Builders gave me some idea of where our world was headed. I began to feel like I was a part of society again. My self-respect and confidence were on the
mend. I worked on a variety of campaigns from Ace Asphalt to Elite.
In July, I will walk though these double doors for the last time. I will be 83 years old! Surely that is old enough to retire. The normal benefits that are attached to this job do not apply to me. It did not prepare me for future job opportunities. Who in their right mind would hire an 83-year-old felon?
So, what did Televerde do for me? It gave me the opportunity to keep my mind in good working order. It provided me with a social standing in this community. It gave back my sense of self-worth. It allowed me to be self-reliant and support myself in my current environment. And then came the Televerde Foundation. I had the opportunity to participate in the PATHS program offered by the Foundation. What will I take with me when I walk through these doors for the last time? Self-respect, self-confidence, an abundance of knowledge, the feeling of keeping up with the outside world and the ability to take care of myself…and one last thing – how to send an email.