My name is Jada and I am the Business Development Representative for Televerde Foundation. I am a professional, a go-getter, a hard worker, a problem solver, a team player, and an incarcerated woman.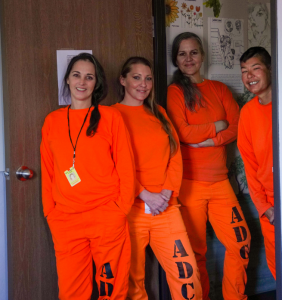 My story is similar to many others here at the prison, with the exception of my role here at Televerde Foundation. I sit in a call center that I walk to every morning from prison, where I get to build partnerships with companies that want to be involved in helping to change the lives of women like me with career skills, reentry, mentorship, financial literacy, employment partners, and more.
There was a time when I was out on the streets, living a life that was clearly going to lead me to prison. I didn't have any sense of direction, purpose, or any type of concern for the damage I was causing in my own life as well as the lives of those around me who loved me. I never thought that I would be anything better than an addict, a manipulator, and a felon. I walked with my defenses up, my spirit defeated and I had no self- worth, no professional skills or business etiquette, no hope for a better life…until I joined Televerde Foundation.
Televerde Foundation has not only changed my life professionally but has also given me everything that I never thought I was worthy of including self-worth, confidence, meaning, and purpose. I spend 40 hours a week talking with high level executives of major corporations about why 2nd chances (and sometimes 3rd or even 4th) are so very important. I am able to
use my story to help people to see that I am more than just a statistic, more than a number, and worth more than society has given me credit for in the past.
Today, I have found a way to "turn my mess into a message". By doing so I can help change the hearts and minds of others and make the world a more inclusive place for everyone, with
opportunities for all, including women who have criminal backgrounds. Today, I challenge
you to ask me why 2nd chances for us are so important.