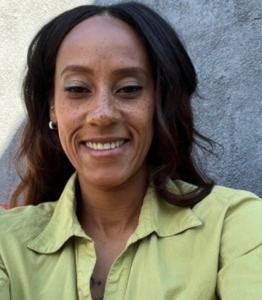 "I HEARD ABOUT TELEVERDE AND SAW ITS IMPACT ON THE WOMEN WHO WORKED THERE; THEY CARRIED THEMSELVES WITH A SENSE OF PRIDE AND CONFIDENCE-- I WANTED WHAT THEY HAD."
BUSINESS DEVELOPMENT CONSULTANT SPRING 2021 PATHS REENTRY GRADUATE
To begin with, I grew up in a wonderful family that sheltered me from the world. I was unaware that people could hurt you, lie to you, or even manipulate you. I had never experienced such a thing. Unfortunately, I met someone I thought loved me and was led down a dark path of abuse and addiction. At the lowest point in my life, I made choices that led me to incarceration. When I was sentenced, I promised my family, my judge, and my children that I would walk out a completely different woman than the one who walked in.
While in prison, I took advantage of every single opportunity for growth that came my way. I participated in AA, NA, CA, Confronting Addictive Behavior, and reenrolled in college. Once in school, I wanted more. I heard about Televerde and saw its impact on the women who worked there; they carried themselves with a sense of pride and confidence– I wanted
what they had. I was shocked when I realized that I was extremely talented at this job. I was with Televerde for 3.5 years, and before I was released, the Chief Marketing Officer at one of our Partners offered me a position to start my career once I got home. Not only did I develop in-demand job skills, but I also began to learn who I was inside. The PATHS program helped me develop coping skills, communicate effectively, and prepare for life beyond the fence. My prison sentence was one of the biggest blessings in my life. It allowed me to hit the refresh button and start over!
Today I work a full-time job with a wonderful company that was so very excited to have my skill set on their team. I am a part-time student at Rio Salado College, and I am 3 credits away from obtaining my Associates Degree. I participate in a minimum of 5 sobriety meetings per week, and I have been clean and sober for 7 years. I have tremendous support from my entire family, and I have a relationship with my children. I guess what I am trying to express is that Second Chances are Real! I am living, breathing, walking proof.