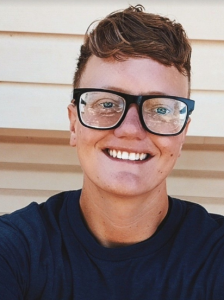 "I HAVE ALWAYS BEEN A CHAMPION OF THE UNDERDOG ... I WOULD LIKE TO THINK I AM A PRIME EXAMPLE OF AN EPIC 'COMEBACK' STORY."
TALENT CONSULTANT SPRING 2021 PATHS REENTRY GRADUATE
When faced with a full pause in my life and freedom, I began my journey to self discovery and fought very hard for my success. When I came to prison, I made a conscious decision to make five goals during my stay: finish my high school education, enroll in college, get an excellent job, save money for my release, and work on my personal growth. I am proud to say I accomplished all my goals and more. After obtaining my high school diploma, I became eligible to work for a B2B sales and marketing organization called Televerde. There, I learned career skills in sales and marketing, and learned to operate in a professional environment.
Along with this fantastic job, I was also enrolled in the programs delivered by Televerde Foundation. Through PATHS, I learned how to communicate, set boundaries, establish healthy relationships, become financially literate, and make better life decisions. This grew my confidence immensely. It was what I needed to ensure I succeeded once I left the prison bars behind.
I was not a bad person before prison; I was just broken, without much hope — I needed that time to restart my life. I know I received a second chance, and I will not squander that precious opportunity. Thanks to the invaluable skills I attained by working for Televerde and going through the programs offered by Televerde Foundation, I now make approx. $75,000 a year; I am rebuilding my credit, following through on my responsibilities, and I shoot for the stars every morning I wake up. This is my personal narrative, and I own every bit of it. I have always been a champion of the underdog, and I would like to think I am a prime example of an epic "Comeback" story. By finally realizing my value and what I am capable of, the trajectory of my life has changed.